Alice MacLean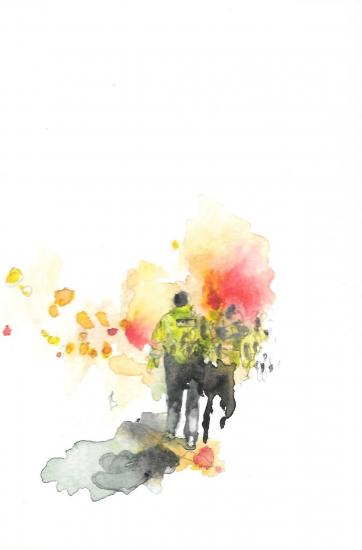 Alice was born in Dartmouth, Nova Scotia, where the surrounding lakes and Atlantic ocean inspired her curiosity with nature. Alice first studied Biology at Dalhousie University, which established her observational and investigative approach to understanding the world. At NSCAD University she concentrated on painting, and strengthened her abilities with figurative and observational representation, and attended the École nationale supérieure des Beaux-Arts, in Paris. Fluidity is at the heart of Alice's work. Alice has exhibited her work 
in Halifax, Paris, Edinburgh, Glasgow, and Toronto, where she was recently living to expand her experience in the arts, she currently lives in Dartmouth.
Workshops and Activities
Using watercolour paint the we will explore techniques and connect and explore the inner landscapes of experiences and self expression. The workshop will provide an introduction to the materials, application, and colour mixing of watercolour paint. The workshop will conceptually explore representational and non-objective painting using shapes, colours, textures, and layers, to explore the notion of self-portraiture (abstract and representational) to broaden what can be considered a self-portrait while conveying emotional landscapes contained within the body through colour combinations and expression. The objectives of the workshop are to broaden traditional usages of watercolour paint, through the exploration of the materials, tools and techniques. The goal is to explore self-knowledge and emotional intelligence using the creative process of painting through a practice of self reflection and self expression. We can paint from imagination, from life, self-portraits or a classmate. The materials of watercolour are non-toxic, use water and dry fairly quickly making is an adequate material for beginners and youth.