Fête de la Saint-Jean-Baptiste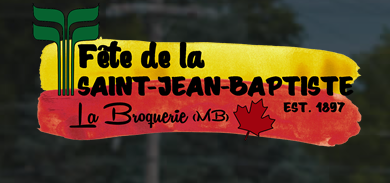 The Saint-Jean-Baptiste Society of La Broquerie Inc. was established in 1893 for the purpose of celebrating and spreading "joie de vivre" in the community. It was and remains an opportunity to celebrate French Canadian culture through music, various activities and, of course, food!
The first edition of la Fête de la Saint-Jean-Baptiste was celebrated in La Broquerie in 1897. The first Parade was held back in 1940 and still follows that same run to this day.
Through the years, the event has evolved from a family celebration into a community event that is held over the weekend to celebrate the French Canadian heritage with over 1 500 people in attendance. There is something for everyone, from kids' games, French cuisine to local artists.