Hyslop, Megan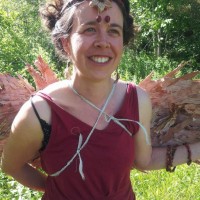 Megan is a settler of primarily British ancestry living in Mi'kmaki/ rural Wilmot, NS.  She grew up in the west but felt her heart drawn to Latin American over and over starting with a student exchange at the age of seventeen to Mexico.  She lived for periods of time in Costa Rica and Guatemala where she learned to dance merengue, salsa, and cumbia.  She also worked/played with youth through the YMCA during this time and learned a lot about life through kids, our best teachers.  Later, she cultivated her love for latin rhythms through classes with the Barefoot Salsa Collective, a Montreal-Colombian group that combined theatre games, theatre of the oppressed techniques, and a playful approach to salsa and other dances. Megan began to teach theatrical salsa classes in 2011 in rural Quebec and have given workshops in Tatamagouche and in the Annapolis Valley.
She has also trained with various theatrical clown and community theatre teachers and she is currently an arts-based doctoral candidate in personal development through theatrical clowning and land connection out of Concordia University.  She offers organizational and therapeutic workshops and coaching in Natural Clowning, or child development and connection to our inner child through play and land connection.
Her classes are in clown, improvisation and collective creation in French, English and Spanich in Annapolis Valley.