The Fransaskois Parent Association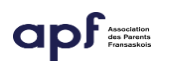 The Fransaskois Parent Association (APF) has been serving families and children since 1983! The association offers services to welcome, support and promote the interests of parents to promote the development of the entire family in French.
The association is open to all parents of children and grandparents of grandchildren entitled, exogamous families, newcomers and those wanting their children and grandchildren to thrive in French.
The Fransaskois Parent Association (APF) offers a range of services for young families through the Family and Child Support Centers (CAFE).
APF is proud to welcome and support parents and their children from birth to 18 years old and offers:
- Playing groups that allow families to bond and enjoy a time filled with stories, songs and crafts.
- The Early Childhood Educational Resource Center, CREPE, which offers a variety of resources in French for parents and infants.
- French language support workshops: resources, programs, games so that parents and children can learn French while having fun!
- CAFE which offers great programs and workshops that promote the overall development of the child.