Cambridge Butterfly Conservatory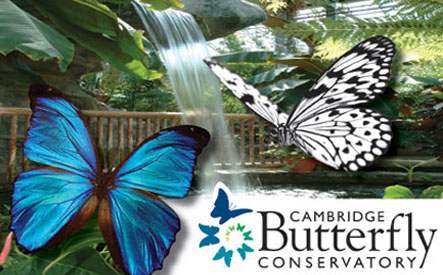 Cambridge Butterfly Conservatory is a privately owned Canadian Corporation located in Cambridge. Situated on a 117 acre site, which includes the environmental sensitive Kossuth Bog, the 25,000 square foot facility includes a 10,800 square foot indoor tropical garden featuring 1000's of free flying butterflies from all over the world, over 100 different varieties of tropical plants, waterfalls, streams, reflecting pools, tropical finches, Chinese painted quails and red-eared slider turtles.
The Cambridge Butterfly Conservatory is where learning takes flight! Students' learning will come to life in a lush, tropical garden - marvel at thousands of free-flying butterflies as you experience the tropics under floral canopies and a cascading waterfall.
Your visit to Cambridge Butterfly Conservatory will focus on inquiry and exploration, with a variety of curriculum-linked hands-on activities. It is sure to inspire curiosity and wonder about butterflies and insects, and their importance in the natural world. Students will have the chance to experience all three Discovery Centres: The Butterfly Conservatory, The Learning Discovery Room and The Insect Galleries.
Cambridge Butterfly Conservatory is often able to accommodate requests for a french speaking Nature Interpreter to deliver school programs. Request fulfilment is based on staff availability and should be requested at the time of booking the visit.