Canada's Cold War Museum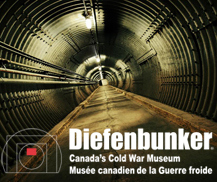 Take a guided tour of the site built to house the Canadian government and military in the event of a nuclear attack during the Cold War.
The Diefenbunker, located just west of Ottawa, was designed and built in secrecy during the height of the Cold War. This 9,290-square-metre (100,000-square-foot) bunker was meant to provide a safe haven for Canada's government if nuclear war were to break out. The site was nicknamed after John Diefenbaker, who was prime minister when the government decided to build the bunker.
The Diefenbunker is now open to the public as a Cold War Museum and National Historic Site. During tours students in kindergarten to grade 12 will:
walk down the Blast Tunnel and into the 1960s;
see rooms such as the prime minister's suite, the CBC Radio studio, the Bank of Canada vault and the Emergency Government Situation Centre;
stand in the War Cabinet Room, where Canada's emergency government would have made vital global decisions during a nuclear war; and
participate in curriculum-based workshops on topics such as strong and stable structures, the continuity of government, and emergency preparedness.
Give your students the opportunity to experience what they learn in class. While visiting Ottawa you'll find a great mix of inspiring and entertaining educational programs that take place both indoors and out. All programs are offered in English or French, and will meet all your grade and curriculum requirements.