Healthy Start – Fredricton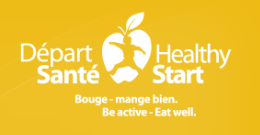 Healthy Start is a bilingual initiative developed in Saskatchewan that increases healthy eating and physical activity opportunities in early learning environments.
Through a partnership of organisations led by the Réseau Santé en français de la Saskatchewan (Saskatchewan Network for Health Services in French) with funding from the Public Health Agency of Canada, Healthy Start is a new approach that engages directors, educators, cooks and parents, providing resources, training and ongoing support.
The mission of the organization is to encourage and enable educators and families to integrate physical activity and healthy eating in the daily lives of young children (0 to 5 years). There are great resources on line such as healthy recipes!