Radio station CFRT 107.3 FM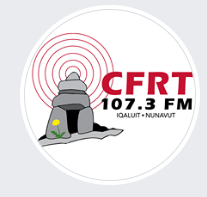 CFRT 107.3 FM broadcasts daily local programming in addition to local newscasts. Listen to your radio, a source of francophone music, local programming and information. Several local columnists also come to talk to you about what is happening in Nunavut.
On the air since 1994, the only Francophone community radio in Nunavut is always looking for new collaborators! Volunteer involvement options are as numerous as they are varied, whether at the microphone, in the field during events or behind your screen, they are always seeking new talent.